The Chime way
Lead engineer & technical designer
The Chime Way is a public installation in San Leandro, California designed to pique curiosity and facilitate interaction disguised as merely a simple place to sit. It consists of a set of eight rocking chairs, each with a ratchet and cam mechanism connected to a hammer. With each rock, the visitor lifts the hammer until it reaches its apex, then drops and strikes a chime.
Located in a thoroughfare plaza, the installation gives people a reason to not only slow down and explore the space, but also to interact with one another to coordinate the chimes and help strangers discover how the seemingly static chairs are responsible for the reverberating tolls heard above.
The Chime Way is a project of the Exploratorium's Studio for Public Spaces (SPS), which works in the public realm to create exhibits and environments that encourage play, exploration, creativity, and social connection.
As the lead engineer of the project, I worked with the architect and city representatives in developing a design with practicality, safety, and user experience in mind. These sketches were drawn by Josh Bacigalupi, the Exploratorium SPS architect.
During the design process, prototyping was done with both engineering function and user interaction as the main parameters of iteration.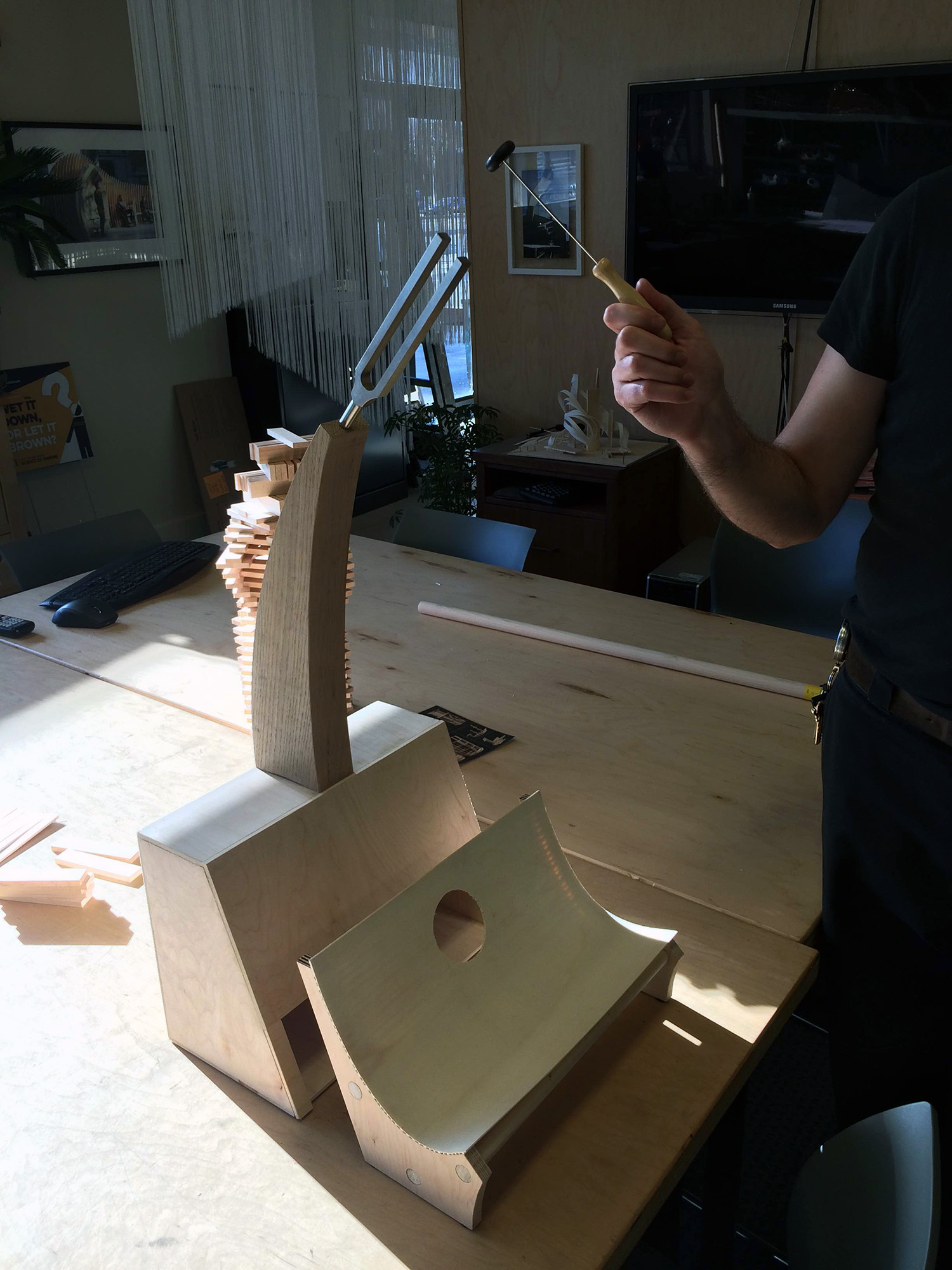 I was also responsible for coordinating the fabrication and installation process. Larger fabrication such as the arches and concrete footings were done by outside vendors, while smaller parts and the majority of assembly were done in house.
The installation process took about seven days. One issue that arose during installation was when the city inspector came and requested additional safety features to prevent finger pinching at the rear of the seat mechanism. We tested a handful of ideas and ultimately decided to attach a rubber mud flap to cover the exposed part of the mechanism along with adding a warning label which we designed and laser etched.
A video of the Chime Way in action, as well as a couple of timelapse videos of the installation process.
Most of the photos in the gallery above were taken by Gayle Laird of the Exploratorium. You can find her work here.
Big thanks to:
The rest of the Exploratorium SPS team: Shawn Lani, Steve Gennrich, Josh Bacigalupi, Becca Bartlett, Sue Pomon, Eileen Campbell, Adam Green, Adam Esposito, and Jesse Marsh.
Engineer, Adam Wong, who helped with the initial designs for the concrete slab foundation and chime mechanism.
Those who helped with in-house fabrication and assembly: SPS intern, Ian Meltzer; volunteer extraordinaire, Herb Masters; and our on-call techs, Dan Nachtrab and Mat Porkola.
Jeff Tiedeken who did much of the welding and fabrication for the seats.
Paul Troutman and crew for doing welding and fabrication on the arches as well as helping with the installation.
Universal Precast Concrete for fabricating the concrete footings.
Tony "Fingers" Rojas for his unmatched courier services.
Lars Halle, and the city of San Leandro.
Taqueria Los Pericos for their hospitality.